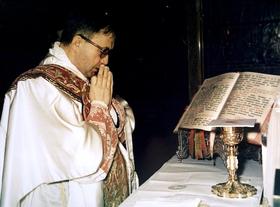 26 June is the feast of Saint Josemaría
A brief account of Opus Dei's history and activities in South Africa.
The Vicar of Opus Dei for South Africa is Monsignor Anton Borras Cabaces.
As long as there is struggle, ascetical struggle, there is interior life. That is what Our Lord is asking of us: the will to want to love him with deeds, in the little things of every day. If you have conquered in little things, you will conquer in big ones. (The Way of the Cross, Third Station, 2)
I ought to put you on your guard against a trick that Satan does not hesitate to use in order to rob us of our peace. He never takes a holiday! A time may come when he sows doubts in our minds, tempting us to think that we are slipping sadly backwards and are making scarcely any progress. The conviction may grow upon us that, in spite of all our efforts to improve, we are getting worse. I can assure you that normally this pessimistic judgement is mere fantasy, a deception that needs to be...